Brevard County Welcomes PulsePoint

On March 22, 2018, Brevard County Fire Rescue (BCFR) launched the new mobile application, PulsePoint. PulsePoint is aimed at providing bystander CPR and Automated External Defibrillator (AED) assistance to those in immediate need.
PulsePoint works by notifying application users, including trained citizens, visitors and healthcare professionals, if someone nearby is having a cardiac emergency, while local paramedics and firefighters are simultaneously dispatched. The app also directs citizen rescuers to the exact location of the closest publicly accessible AED.
Cardiac arrest is a leading cause of death in the United States, accounting for an estimated 424,000 deaths each year, or more than 1,000 deaths per day. The American Heart Association estimates that effective bystander CPR, provided immediately after cardiac arrest, can double or triple a person's chance of survival. However, less than half of cardiac arrest victims receive bystander CPR, or CPR administered by a trained person on scene, or the use of an AED.
"With such a short window of opportunity in cardiac arrest cases, early CPR and defibrillation is the key to survival. Brevard County Fire Rescue and our municipal partners are committed to improving the chain of survival," said Brevard County Fire Chief Mark Schollmeyer, "and ultimately positive cardiac arrest outcomes, through the use of technology and citizen engagement."
By bringing the PulsePoint App to Brevard, our county will now join the ranks of the various other municipalities and counties throughout the country currently utilizing PulsePoint, including Los Angeles and San Diego County, the District of Columbia, the city of Madison, Wisconsin and our neighbors in Orlando.
Brevard County Fire Rescue was able to initiate the PulsePoint project and application launch with the receipt of the State of Florida EMS Trust Award. Through which, Brevard County Fire Rescue was awarded $23,000 of initial funding, and $13,000 of funding per year guaranteed for the next 5 years. Much of the funding for the EMS Trust Award comes from fines collected by the State of Florida through traffic tickets.
PulsePoint and Brevard County Fire Rescue, along with our partner agencies, are providing our community with a unique opportunity to build a partnership between citizens and first responders. Through this collaboration, BCFR is determined to bring immediate CPR and AED assistance to anyone in need.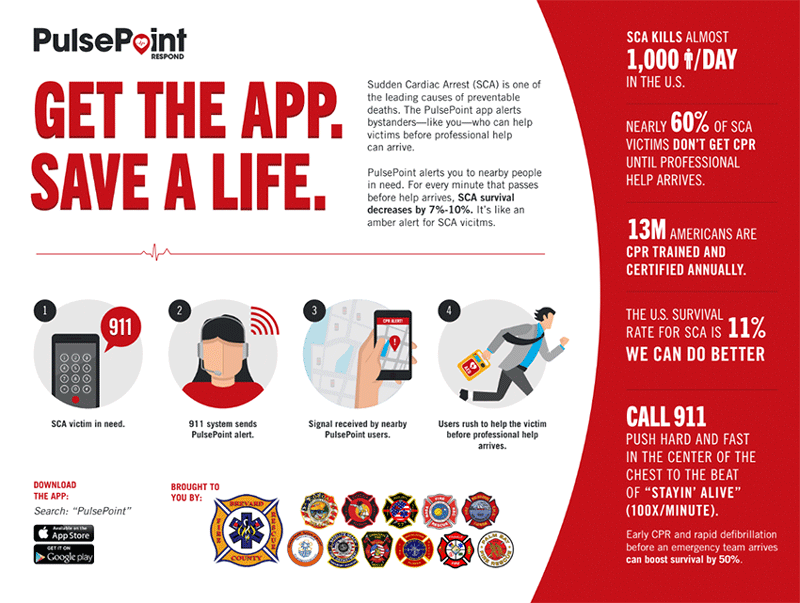 PulsePoint Respond. Get the app. Save a life.
Sudden Cardiac Arrest (SCA) is one of the leading causes of preventable deaths. The PulsePoint app alerts bystanders, like you, who can help victims before professional help can arrive.
PulsePoint alerts you to nearby people in need. For every minute that passes before help arrives, SCA survival decreases by 7% - 10%. It's like an amber alert for SCA victims.
SCA Victim in need.
911 system sends PulsePoint alert.
Signal received by nearby PulsePoint users.
Users rush to help the victim before professional help arrives.
Facts About SCA
SCA kills almost 1,000 people a day in the U.S.
Nearly 60% of SCA victims don't get CPR until professional help arrives.
13 million Americans are CPR trained and certified annually.
The U.S. survival rate for SCA is 11%. We can do better.
Call 911. Push hard and fast in the center of the chest to the beat of "Stayin' Alive" (100 times per minute). Early CPR and rapid defibrillation before an emergency team arrives can boost survival by 50%.
Download the app. Search "PulsePoint".
Download PulsePoint from Apple App Store.

PulsePoint AED
PulsePoint AED lets you report and update AED locations so that emergency responders, including nearby citizens trained in CPR and off-duty professionals such as firefighters, police officers and nurses, can find an AED close to them when a cardiac emergency occurs.
The PulsePoint AED app is an excellent way to add the AEDs because it allows you to take a picture of the AED in context so it is easily found, as well as allowing you to better place a geographical pin. However, if you already have a list of AEDs and addresses, and travelling around to log them is not convenient, you can add them online as well.

Go to https://aedregistry.pulsepoint.org/ . Type in the address or business name and click on the correct location. If there is no corresponding location, you should be able to drag and drop the yellow pin. After the pin is in the correct spot, hit the yellow "next" button on the bottom left of the screen. Then fill out the rest of the information as thoroughly as you can. Only the required fields are necessary if you don't have the other information. Hit "submit" and it's as easy as that! Thank you so much for joining us and helping to build our AED registry!
Please watch the video above with EMS Special Projects Coordinators Francesca Basinger and Kayla Siford who walk through the steps to register AEDs and step up the PulsePoint Respond App.

View how-to videos.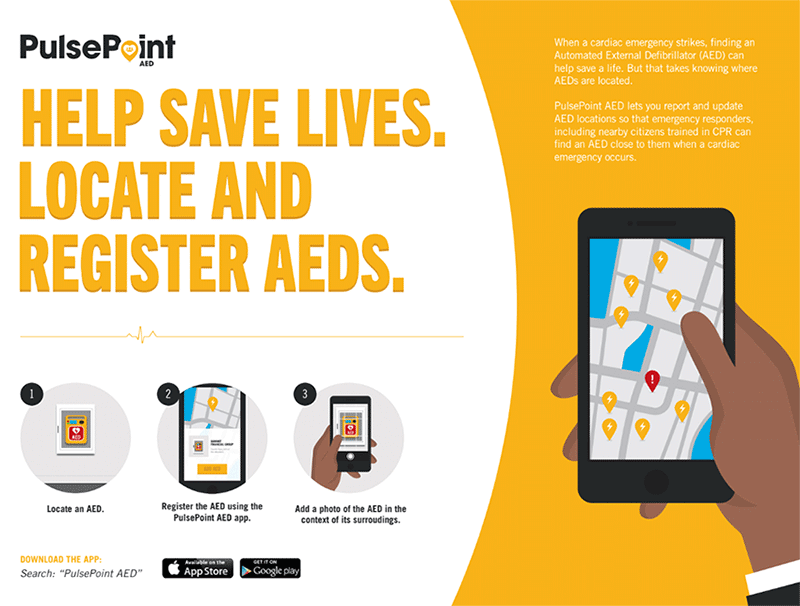 PulsePoint AED. Help save lives. Locate and register AEDs.
When a cardiac emergency strikes, finding an Automated External Defibrillator (AED) can help save a life. But that takes knowing where AEDs are located.
PulsePoint AED lets you report and update AED locations so that emergency responders, including nearby citizens trained in CPR can find an AED close to them when a cardiac emergency occurs.
How the app works
Locate an AED.
Register the AED using the PulsePoint AED app.
Add a photo of the AED in the context of its surroundings.
Download the app. Search "PulsePoint AED".
Download PulsePoint from Apple App Store.