Brevard County Utility Services Reclaimed Water

Mims Residents Reclaimed Water Schedules
We have updated our watering schedule based on the St. Johns Water Management district practices for the Mims area. Please adhere to these changes and follow your specific watering schedule listed below.
Water is available from 12:00 AM to 10:00 AM, or until it runs out.
All odd numbered address that end in 1, 3, 5, 7, or 9, will water on Wednesdays, and Saturdays.
All even numbered address that ends in 0, 2, 4, 6, or 8 will water on Thursdays and Sundays.
Commercial properties will water on Tuesdays and Fridays.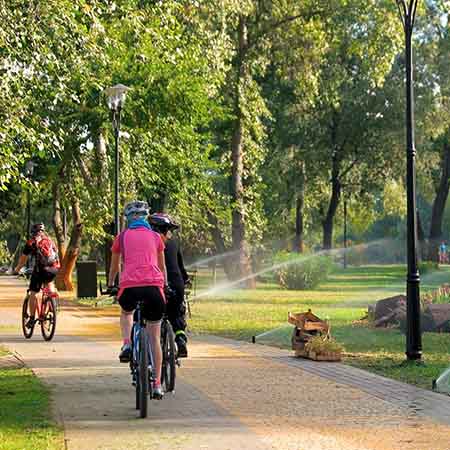 Reclaimed Water Service Status
Hotline number: (321) 733-5634
Press 1 for the Mims Area
Press 2 for Merritt Island and Port St. John Areas
Press 3 for the Suntree and Viera Area
Press 4 for the Melbourne Beach area
Reclaimed water is wastewater that receives advanced treatment and filtration, resulting in a safely recycled water suitable for lawn irrigation and many other uses.
Reclaimed water can be used for:
Landscape irrigation
Hose system irrigation with an approved spigot security device
Irrigation of citrus
With specific authorization, reclaimed water may be used for:
Edible crops that will be peeled, cooked or thermally processed
Decorative fountains
Fire protection
Reclaimed water may NOT be used for:
Filling swimming pools, hot tubs, or wading pools
Washing vehicles, sidewalks, or driveways
Plumbing inside of any residence
Irrigating edible crops that will NOT be peeled, cooked, or thermally treated
Connected to any potable (drinking) water system
Irrigation on an property served by a potable water well
Even though reclaimed water has been treated, disinfected and is safe for incidental human contact, it is not "drinking water" and has not been approved for human consumption or contact. Reclaimed water cannot be distributed for public use unless it meets strict treatment requirements which means continuous monitoring, sampling, and analysis. For this reason the supply of reclaimed water may be interrupted for short periods, without warning, if the quality drops below these standards.
Reclaimed water plays an important role in the stewardship of Florida's water resources. Irrigation with reclaimed water reduces the need to dispose of sewage effluent in surface waters, such as the Indian River Lagoon, and ground waters.